Many wedding destinations in Colorado, cities like Denver, force you to share space with other couples and onlookers. Not Three Trees Chapel.
Our planners and staff have crafted an exclusive yet inexpensive wedding venue that you can enjoy in secluded elegance. The Three Trees Chapel event team is ready to transform your outside wedding ideas and desires into realities, and we look forward to helping you stay within budget in the process.
Why settle for some creaky, ten square foot parquet dance area at an uninspired "vanilla" venue? With our 1,400 square feet of floor space to cut loose, lighted bar and chic lounge seating all bathed in customizable creative lighting, you can really make the night one to remember. Should the excitement ever feel overwhelming, you're only a few steps away from our cocktail patio, where you can take a step back to the tune of a babbling stream and a softly rushing mountain waterfall.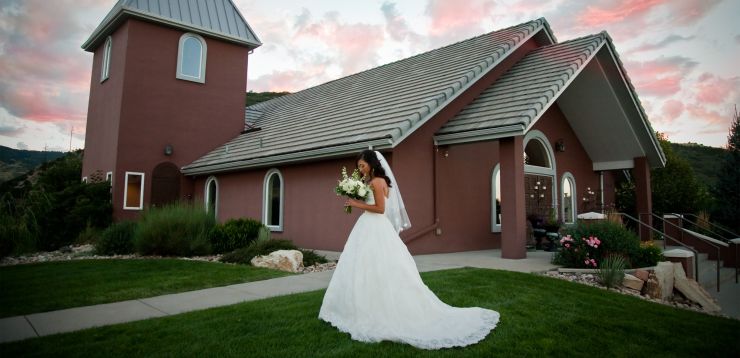 Few experiences compare to dining and celebrating with all of your loved ones on your wedding day. Our 1,800 square foot garden wedding tent makes it easier to enjoy the ambiance and good company without bumping knees. Luminescent lighting, romantic appeal and a resplendent natural setting make this the ideal canvas. Why not design the iconic event you've always dreamed of? With unparalleled five-star caterers, menus, seating options, linens and a full support staff, you can truly make your wedding your own.
Select preferred options below to estimate your wedding costs. Adjust quantities accordingly to better fit your budget.
Results will be revealed immediately below the form.

To be replaced by price quote form.